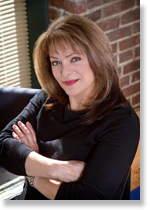 Terri Murphy - Speaker, Author, Consultant, Contract Training
Featured columnist for The Connection Factor
As a top producing sales entrepreneur in the Chicago area for over 24 years, Terri understands the unmatchable power of how to connect in a noisy and overcrowded marketplace to create powerful engagement in the market today.Terri is considered a pioneer in the development of online distance learning programs. She was the executive producer of the first online training networks, for IRTV/MUZAK and ISucceed/Entreport.com. Terri is the president of Terri Murphy Communications, Inc. and CIO of U.S. Learning; a global interactive on-demand learning and training company based in Memphis, TN.
Her expertise is consulting and developing educational initiatives for companies, executives and associations on ways to create new relationships through cutting edge engagement combing online and traditional communication strategies.
She is a published author of 5 books, 4 on sales and leadership and her most recent book with Donald Trump, "The Best Real Estate Advice I Ever Received."
Terri has produced and hosts both television and radio programs, and been featured on ABC, NBC and CNBC News as a sales expert. She is also a regular guest on WREGTV's Live@9 for Women in Business and KWAM990 A.M. Women's Wisdom Wednesdays and is the founder of www.SmartWomenSmarterChoices.com.
For more about Terri's work visit: http:www.terrimurphy.com