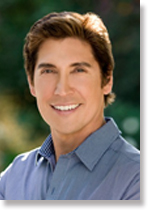 GARY QUINN - International best-selling Author, Life Coach, and TV Producer
Guest Columnist for Living Beyond Limitations
Gary shares his valuable insights and knowledge with a worldwide audience via his self-help, motivational books, audio CD's, TV appearances & radio appearances, and numerous worldwide speaking engagements & seminars. Several of his recent books have become best-sellers in this field and are acknowledged as essential tools for those seeking to improve their lives by enhancing the mind, body, and spirit.
Gary is the founder of the Touchstone For Life Coaching Certification Program ™ in Los Angeles, which trains, transforms & empowers individuals to create fulfilling lives. Gary's teachings have been embraced by people from all walks of life including entertainers, Olympic athletes, and corporate leaders. Among his many clients are Academy Award winners Roberto Benigni and Geoffrey Rush, Grammy winner Seal, well-known actors, and Fortune 500 CEOs. Among his corporate clients are MSNBC, Mattel, Indigo, Diesel Inc, Toyota and the Lynx Corporation.
A highly-regarded motivational speaker, Gary is in demand worldwide for seminars, workshops, and television appearances. He frequently holds events and seminars in the USA, Switzerland, England, Japan, Ireland, Italy, Austria, Brazil, Germany, Mexico, Canada, and Australia. His seven books are published in eleven languages around the world.
Gary has been featured in New York Times, Los Angeles Times, Glamour Magazine - Italy, Marie Claire Magazine- Italy, Chicago Tribune, Vogue Magazine, Reader's Digest France and Switzerland, Bella, Avanti, Gala, D'Primeramano, Woman's Weekly, El Persistente, Country Living and InStyle Magazine, The Other Half/NBC, Extra, The Discovery Channel, CBS-TV, This Morning, NBC TV, Univision: A Primera Hora, Fox TV, Pro 7 German TV-Academy Awards Special and has been interviewed by Leeza Gibbons and Shirley MacLaine, in over 200 radio shows all over the globe.
Learn more about Gary's work: www.garyquinn.tv
Click cover to order one of Gary's books: