Howard Caesar - Recognized Spiritual Leader, Teacher, Author & Speaker
Reverend Howard Caesar was ordained as a Unity Minister in 1976. His first ministry was in Olympia, Washington where he served for seven years and helped grow the congregation by 600%. He led the ministry through three expansion projects and was heard on two different radio stations daily. In 1983, Howard joined the ministerial staff at Unity Church in Houston, Texas where he has served as Senior Minister for the past thirty-three years. During this time, he led the 3,000 plus member congregation in the purchase of an additional 11 acres of land to their already expansive campus and construction projects amounting to over $16 million.
Each Sunday, Rev. Howard Caesar's message focuses on a positive, practical and progressive approach to Christianity. Through the weekly Sunday television broadcast, "The Awakened Life" with Howard Caesar on KUBE Channel 57, his message reaches many more individuals around the Greater Houston area.
Rev. Caesar's spiritual messages have helped many find a deeper spiritual meaning in their lives while experiencing happier, healthier and more productive ways of living. On two occasions, Houston Press readers have chosen Unity Church of Christianity as "Best Place to Worship in Houston", and Inside Houston Magazine's Best of Houston, city-wide readers polled also selected Unity Church as "Best Place of Worship". Rev. Caesar has been featured in major articles in the Houston Chronicle newspaper and as a panelist for KHOU-Channel 11's Faith and Values segments. He was also featured in the 2011 issue of H-Texas Magazine naming him as one of the 25 most influential Houstonians for his spiritual contribution to the city.
He is a member of the prestigious Board of Preachers at the Martin Luther King Chapel at Morehouse College in Atlanta, Georgia. He is recognized as one of the foremost leaders and speakers with the New Thought message, traveling the world to meet with spiritual leaders such as his Holiness the Dalai Lama, whom he has had the honor of meeting three times. He is a founding member of the Leadership Council of the Association for Global New Thought (AGNT) and previously served on the Boards of the International New Thought Alliance (INTA), as well as the Association of Unity Churches, Pavilion International Recovery Center and other Boards. Howard has completed seven years on the Board of Unity World Headquarters, serving the past three years as Chairman of the Board.
Rev. Caesar has traveled throughout the United States and abroad speaking and sharing positive inter-faith messages. He has taken thousands of people on pilgrimages to such places as the Holy Land, Egypt, Bali, India, Brazil, Greece and numerous other destinations globally. In recent years, he has made six trips to India to attend courses at the Oneness University.
Howard has been the recipient of many accolades during his career, including The Light of God Expressing Award and The Voice of Unity Award for his 35 years in the arena of radio and TV. He also received the Lifetime Achievement Award given by his peers for his dedication, achievements and leadership.
Rev. Caesar's friendship with many well-known authors and speakers exposed his congregations to such individuals as Deepak Chopra, Neale Donald Walsch, Marianne Williamson, Gregg Braden, Steve Allen, Iyanla Vanzant and a number of other great spiritual teachers who have transitioned such as the late Norman Vincent Peale, the late Og Mandino, the late Art Linkletter, the late W. Clement Stone, the late Wayne Dyer.
Howard and his wife Diane have three grown children, three grandchildren, and reside in Sugar Land, Texas.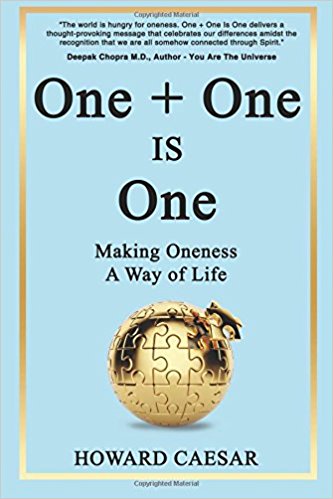 Click image to order book