Recommended Reading
Click on the cover to order each book:
Arthur P. Ciaramicoli, Ed.D., Ph.D. - Licensed Clinical Psychologist, Author, Educator & Speaker
Featured Columnist for Living Stress-Free
"This book is a wonderful contribution to the ever-changing field of therapy. Based on research evidence, Dr. Ciaramicoli integrates the science and practice of empathy with traditional cognitive behavioral theerapy (CBT) to offer a wise and inspiring solution to the problems associated with stress. This book engages us in easy and effective strategies to help reduce unhellpful way of thinking and to let go of stress. If you experience stress and ar looking for a gentle, practical, and effective solution, empathic CBT will not fail to assist you." Dr. Bruno A Cayon, clinical psychologist, director of the MiCBT Institute and author.
Kari Joys - Catalyst For Healing | Featured columnist for Living With Joy
If you've been wondering how to have more joy in your life, you'll love Kari Joys' "Finding Joy Around the World." Kari has collected insights and stories from 32 people in countries all over the world who have shown an interest in living with joy. Many of these people have overcome great difficulties in their lives to find their joy and they love sharing their insights and suggestions for others who are still struggling. Their stories are honest, sincere and heart-warming and their suggestions for finding joy are profound and insightful. You'll definitely be surprised and uplifted when you read them! When you complete "Finding Joy Around the World," you'll have a deeper understanding of what joy is and how you can create more joy in your own life.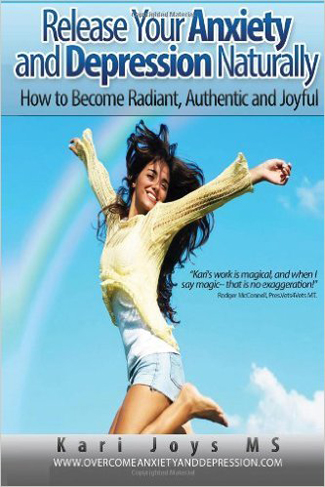 Release Your Anxiety and Depression Naturally

"Release Your Anxiety and Depression Naturally; How to Become Radiant, Authentic and Joyful" offers a new approach to common mental health issues, like anxiety and depression. Kari Joys offers a heart-centered, mind, body, spirit approach that will bring you back in touch with your true, authentic self and help you create a life that is meaningful and fulfilling to you. Kari's JoyIAm Integrated Psychotherapy Process has helped thousands of people overcome their challenging issues to live a radiant, authentic and joyful life.
"Who Stole Your Joy?" brings forward a compelling message of hope. It describes the process of losing the joy and innocence of childhood, through the painful experiences of our lives, as well as the opportunity we have to regain our joy, through the choices we make every day. With stunningly beautiful illustrations by an emerging Greek artist, this book illustrates the healing journey that can be accessed by everyone. It's empowering and uplifting to understand the natural path we can choose at any time to come home to our joyful, authentic self. "Who Stole Your Joy?" clearly demonstrates that joy is indeed our birthright! No matter where we are in our lives, this powerful little book shows us that there is always a way out of the darkness.
May L. McCarthy - Speaker, Author, Consultant, Contract Training
Featured Columnist for Creative Prosperity
A clear path to wealth and abundance in just 30 minutes a day!
In today's economy, it's more important than ever to get clear about your personal and professional goals- and to commit to a plan that will get you there. In The Path to Wealth: Seven Spiritual Steps for Financial Abundance, multimillionaire entrepreneur and angel investor May McCarthy shares her own daily practice to help you do just that.
The first step on this journey is to welcome a new member to your financial advisory team: the all-knowing power of the universe that McCarthy affectionately calls the Chief Spiritual Officer, or CSO for short.
In part one of the book, you'll learn how to set up and activate the seven-step daily practice. You'll learn the job descriptions for both yourself and your new partner, and you'll see that when these steps are applied on a daily basis, you will experience a complete shift in your thinking about how financial wealth and abundance are created.
In part two, you'll go deeper into the practice to gain insight about your purpose, learn how to successfully navigate financial ups and downs, and overcome the fear of failure as well as eliminate old beliefs and behaviors that have kept you from experiencing the success you really want.
Best of all, the steps outlined in this book will teach you how to develop your own financial intuition, which is key to noticing and pursuing the opportunities that will present themselves once you are on this path.
Financial abundance can be a game of fun and prosperity, but only when you realize that you don't have to do everything yourself. Your new partner wants to help you. Let May McCarthy show you the way.
Mark Mincolla, PhD - Legendary Natural Health Care Practitioner
Featured Columnist for The Keys to Whole Health
Be the healthiest you've ever been, and possess more vitality and energy, with the Whole Health Healing System!
Winner of the 2014 Nautilus Award represents "Better Books for a Better World"—the Gold Award (Best Book of the Year) in the category of Health & Healing/Wellness/Prevention/Vitality.
In Whole Health, Dr. Mark Mincolla outlines the Whole Health Healing System, his unique method based on more than thirty years' experience as a holistic medical practitioner. This system integrates elements of classical Chinese medicine, personalized nutrition, and extrasensory energy medicine, while inspiring, empowering, and teaching how to attain balance in body, mind, and spirit. This book will:
Assist in making sixth-sensory diagnoses of ailmentsHelp you achieve better health through specially tailored nutritional recommendationsBalance body, mind, and spirit with time-tested diagnostic tools, techniques, and meditations And much more...
This one-of-a-kind system will lead you down the path to natural healing and help you easily achieve physical health and spiritual oneness as never before.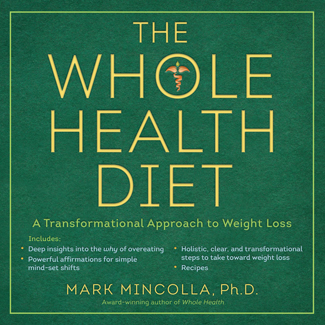 The Whole Health Diet: A Transformational Approach to Weight Loss
In his first book Whole Health, award-winning author and natural health practitioner Dr. Mark Mincolla introduced the world to his holistic methodology—the Whole Health Healing System—a unique plan combining energy medicine, food energy, and Chinese holistic medicine.
In his follow-up work—The Whole Health Diet—Dr. Mincolla tailors the Whole Health Healing System to focus on the problems of obesity and food-related poor health. The Whole Health Diet is the anti-dieting diet plan. It's not just about state-of-the-art, optimal nutrition, but it's also about arriving at your ideal weight as the natural result of attaining and maintaining your holistic balance. The Whole Health Diet escorts readers through a profound shift in consciousness. By connecting all the dots—metabolic, dietary, nutritional, physiological, and spiritual—this bookprovides the reader with a path to attain true holistic balance and wellness. In so doing, The Whole Health Diet provides a true solution to the problem of obesity—you fix the mind and spirit, and you in turn fix the body. Among so much more, this book contains:
-Deep insights into the why of overeating
-Powerful affirmations for simple mindset shifts
-Holistic, clear, and transformational steps to take towards weight loss
-Delicious recipes
Leslie Shore, MA - Consultant, Facilitator, Author & Speaker
Featured Columnist for The Heart of Listening
How do CEOs stay at the top? How do married couples happily stay together? How do sales people stay on the top of their game? How to parents ensure great relationships with their children? They all share the ability to listen effectively. Listen to Succeed explores the underlying need for effective listening; points out the stumbling blocks that contribute to not being as effective a listener as we can be; and shows us how we can dramatically improve this skill. This book will give you a new way to communicate successfully with your clients, patients, co-workers, friends, and family . . . with virtually everyone you come in contact with. Listen to Succeed is for Leaders & Their Teams, Students & Teachers, Parents & Children, Doctors & Patients, For Anyone and Everyone who wants to build strong, productive, thriving relationships. It's never too late to become a more effective listener. Read this book with care and consideration and LISTEN to the voice inside. "Full of ideas about a subject we thought we already knew about. Listen to Succeed shows us ways to improve, perhaps dramatically improve, our listening skills . . . This is a well organized, easy-to-read book brimming with tools and tips to help us become more successful listeners, even in areas we didn't even know we weren't paying attention." -Jean Illsley Clark, author Self-Esteem a Family Affair
Dr. Roger W. Teel - Global Spiritual Leader, Author & Life Transforming Speaker
Guest Author
A simple, fun instruction manual for living a more joy-filled, authentic life! Readers will delight at Dr. Roger Teel's accessible writing style and wit, while learning important lessons about themselves.
This Life Is Joy is an extraordinary new book by one of the most admired spiritual teachers in the country. In this book, Dr. Roger Teel shows us how every moment, experience, and person can be an opening for our soul. Separated into three easy-to-use parts, this book will:
* Tell a fable that puts our spiritual journey into context
* Discuss the seven spiritual principles that are universal to the world's wisdom traditions
* Show how nine specific challenges and difficulties (such as fear, illness, and change) can be transformed from stumbling blocks into stepping stones
Filled with advice that can come only from a lifetime of practicing these traditions, this book will be an indispensable guide to people who want more from their lives.
Jason Womack, MEd, MA - Author, International Speaker, Executive Coach
Featured Columnist for Get Momentum
Imagine if your best just got better every single dayIn Your Best Just Got Better, productivity expert Jason Womack teaches readers that working longer hours doesn't make up for a flawed approach to productivity and performance. Workers need to clarify their habits, build mindset-based strategies, and be proactive. Womack's signature "workplace performance" techniques offer specific strategies to consistently and incrementally improve performance.
A powerful and personalized process to improve your life and advance your career
Do you sometimes feel stuck, despite real efforts to gain momentum on goals you've set?
Momentum means you're doing more than simply getting things done. It's that feeling of satisfaction, the belief that you can achieve big goals and complete important projects that fulfill you both personally and professionally. Get Momentum coaches you in the mindset, skill set, and toolkit required to make progress on the items you have on your life and work goals faster and easier, while living a less stressful, more meaningful life.